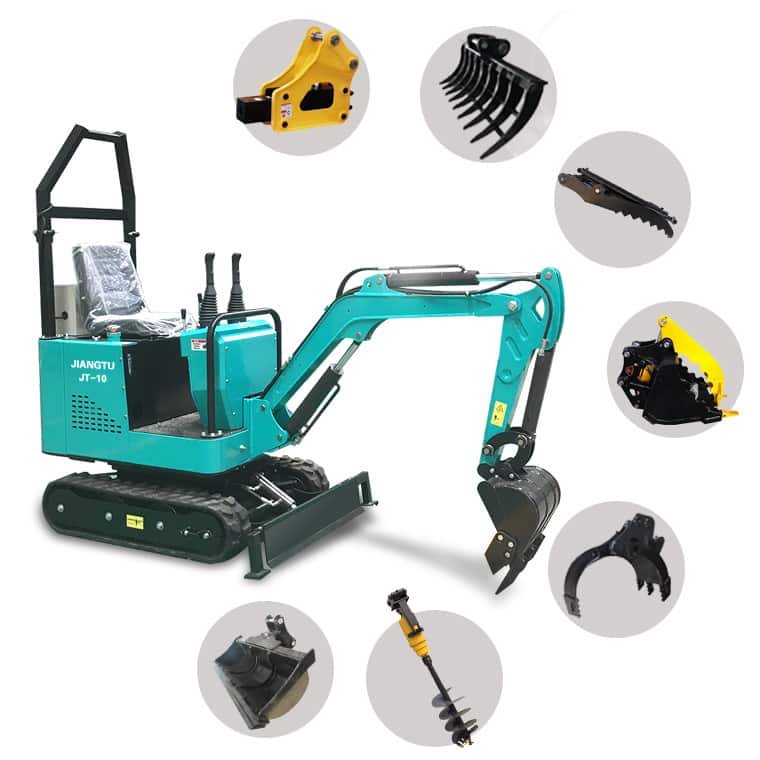 In various construction works, there are usually requirements that can only be met by using smaller mini excavators.
The reason for this is the limitation of space and the need for speed and maneuverability of movement. Such operations may include sidewalk construction, earthwork in smaller areas, demolition work inside a building, or landscaping in a garden.
These tasks cannot be performed effectively with larger, robust, and slow-moving machines. In this article, we will introduce you to mini excavators, what types of machines are available and how and when they are used.
With an operating weight of up to 20,000 pounds, a compact or mini excavator is a tracked or wheeled vehicle. The machine has a sturdy arm that can be connected to a variety of attachments, including a standard backfill blade or a shovel.
Excavators that use hydraulics differ from other construction equipment in that all of the machine's movements and functions are achieved through the movement of hydraulic fluid. In compact excavators, the working groups and buckets are controlled by a hydraulic fluid acting on hydraulic cylinders. The slewing (turning) and travel functions are also controlled by fluid-powered hydraulic motors.
What are the typical applications for Mini Excavators?
Mini excavators, especially if they are specially equipped for extended rotation, are agile, compact, and versatile. Thanks to these characteristics, the range of activities, in which they can be used, is quite wide. For example:
What are the main parts of a mini excavator?
The three major components of compact hydraulic excavators include house, undercarriage, and workgroup. Let's see the mini excavator parts in detail:
Slew: The slewing mechanism rotates the excavator's house assembly.
House: The house structure contains the driver's cab, the engine compartment, the hydraulic pump, and the distribution components. With a pivot bearing attached to the house end of the undercarriage, it can move with the workgroup indefinitely because of a hydraulic distributor valve supplying oil to the undercarriage components.
Workgroup: This workgroup is composed of the boom, bucket or arm, and attachments (including augers, buckets, and hammers). With its hydraulically pivoting swing frame, it can move the entire workgroup to the left or right to achieve staggered trenching for parallel trenching.
Undercarriage: Supporting the complete house, or cockpit, and the workgroup, the undercarriage consists of rubber or steel tracks, drive sprockets, rollers, idlers, and associated components/structures.

Tracks or gears: Depending on the desired functionality and use case, mini excavators can be applied with tracks or rubber tires.
Independent boom swing: A mini excavator has an independent boom swing, which gives it many benefits in contrast to other digging machines. The main use of boom swing is to level excavations around obstructions or to drive behind walls or structures without the need for cab rotation.
Backfill blade: The backfill blade is used for grading, leveling, backfilling, trenching, and general grading.
Bucket: Due to its position directly above the working group of the excavator, the bucket can be used in many ways, including increasing the dump height and digging depth while stabilizing the machine.
How to choose the right mini excavator?
There are many compact machines to choose from, especially when you reckon with the almost limitless possibilities of additional accessories. Here are a few pointers on what to look for when choosing the right mini excavator for your next project.
Size and weight are the first and probably the most crucial factors you need to consider when choosing the most suitable machine. As a first step, review the plans and tasks that you or your employees will be implementing and accomplishing with the excavator. If the job site offers limited space to maneuver or is located on unstable ground, you should choose the lighter option. These tasks typically include pool excavation, landscaping, sidewalk work, or construction in hard-to-reach areas. If the construction site is located within a larger building, you will need to gather information about the size of potential entry points, which is again most likely a limiting factor.
If you plan to use a hydraulic or pneumatic breaker, you'll need more weight to create a solid foundation that can withstand the impact. While having more space in the construction zone also calls for larger, heavier machines that will ultimately speed things up.
Even though these apparatus are designed to be learned in a couple of hours at most, hiring trained operators are the key to maximum efficiency. Experienced specialists have the necessary knowledge to handle the machine in unexpected situations, such as when they encounter a layer of extremely hard rock during excavation work.
Tracks or gears? The smaller excavators are more likely to be equipped with tracks, making them almost all-terrain machines. Steel tracks are not allowed on the conventional road network. So if your job site is on loose soil or muddy terrain, you'll need to plan for the transportation as well.
What are the most important advantages of mini excavators compared to larger ones?
It is less expensive to operate a compact machine due to many different factors, including
Aside from demolishing large buildings, mini-excavators are being used more and more by contractors on construction sites. Numerous innovative attachments can be installed on the boom, from grapples to drills to hydraulic breakers.
Brand JiangTu offers top quality in terms of maneuverability, raw materials used, impeccable operation, and last but not least, high profitability of the machines, which can help you on several construction sites per day.
Related Articles
Today I would like to introduce you to a new excellent product in the last two years, Jiangtu 180°tilting quick hitch coupler.  Tilting Quick Hitch Coupler is also a fully automatic double locking…